---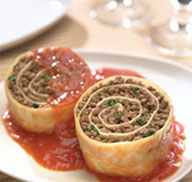 Pastas
All pastas are pre-cooked and individually flash frozen, which allows for the convenience of quick preparation and cooking times.
100% all natural ingredients
fresh liquid eggs
100% durum semolina
Peter the Chef pastas have no preservatives.
Pasta Sheets
Build your own lasagna and fill your own cannelloni using convenient, time saving Peter the Chef lasagna and cannelloni sheets. This delicate crepe-like pasta is cut to the right size for ease of assembly.
Filled Pastas
Peter the Chef is pleased to introduce uniquely shaped pasta rolls shown on the cover. Pasta Porcellini are shown to the left and Stuffed Envelopes with a ham and cheese base, and a variety of other fillings, are shown on the reverse side.
These tasty treasures will offer appealing selections to your menu and can be located in the list by the star "
" symbol.
All filled pastas use quality ingredients such as:
tender grade A veal and beef
fresh cheeses like ricotta, mozzarella, parmesan and romano
Sauces
Peter the Chef sauces can be mixed and matched with a variety of pastas! Some of the suggestions can be seen in the photographs, or you can create your own combinations. In fact, many of the cold sauces can top foods such as vegetables, salmon pizza, chicken and seafood. Sauces can also be used as a base to your own creations.

Peter the Chef sauces are made from:
100% natural ingredients
100% pure Italian olive oil
whole imported tomatoes.
Sauces contain no additives, preservatives, MSG or artificial flavours.
The cold sauce jars are hot filled and sealed ready for your heat and serve use.
Prepared Entrées
Peter the Chef entrées, such as lasagna, are prepared in trays and are carefully layered with generous fillings, then crowned in a cheesy mozzarella béchamel sauce.
Select from the list, a wide variety of entrées to appeal to

meat lovers,
vegetarians and
cheese lovers!
Click here to download a listing of all the Retail Items.
---